On settling in Cambria, Central Otago, the Llareggyb miners quickly realised that they missed a key component of their mining operation – their horses. The colliery horse, often referred to as a "pit pony" was a vital part of an efficient mine. So they went looking for a horse that could do the job.
In Wales, horses were used to pull coal wagons from the colliery to customers or to power pumping or winding machines. From the late 18th century, they were used underground to replace the children whose job was to push wagons from the coalface to the shaft. Sadly, this did not mean that children were no longer used in the mines. Some of the Llareggyb choir started working in the mines from the age of ten.
The job of finding a suitable horse was given to Jim Jones. Jim had followed his father, Big Jim, and grandfather, Old Jim, down the mines. Big Jim and Old Jim had run teams of horses in the mines for years. Young Jim had grown up spending more time in the stables than in his house and certainly in school. He knew horses, understood them, they understood him, and he loved them.
Jim hit the road. He went to every horse auction in the South Island, saw hundreds of horses, but none that matched his criteria. He headed north, attending auction after auction. In a pub in Hawera, he was about to drown his sorrows when he heard a local, who patrons were calling Snowy, talking about a horse that he had just bought for $1,000. Snowy was saying that he saw great potential in this horse.
Jim introduced himself to Snow and asked him for more details on the horse. Snowy was happy to oblige. He said that the horse had perfect proportions, great musculature and a delightful temperament. He would be a stayer. Jim asked if he could see it so Snowy took Jim to his farm. As soon as he saw the horse, Jim understood what Snow could see.
Jim said that the horse would be perfect for him, but it was obvious that Snowy was never going to part with him. Snowy said that he knew that the horse had a brother. Maybe Jim could buy him. Snowy gave Jim the breeders details and shortly after, Jim was on a farm near Dargaville, looking at horse that Jim fell in love with immediately. The breeder thought the horse was 'dog' and was glad that Jim could take him off his hands for $500.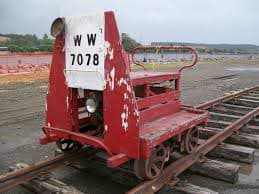 By the time that Jim and the horse had arrived back in Cambria, the miners had got tired of waiting. They had found an old, motorised railway jigger near St Bathans, fixed it up and were using it to haul the drams of coal from the coalface.
Not willing to get rid of the horse, a red chestnut,which Jim had named "Tingoch" translated as "Red Bum,"after a Welsh bird, he found free grazing and would spend his days off riding Tingoch across the Manuherikia plain.
Two years later, Jim heard that Snowy's horse had won the Melbourne Cup. Coincidentally, Snowy had named his horse after a New Zealand bird, "Kiwi." Jim thought about entering Tingoch into the annual race meeting at Omakau but decided that he didn't want to put too much pressure on his best mate. One can only wonder what the outcome for Jim, Tingoch and the Llareggyb Miner community might have been.